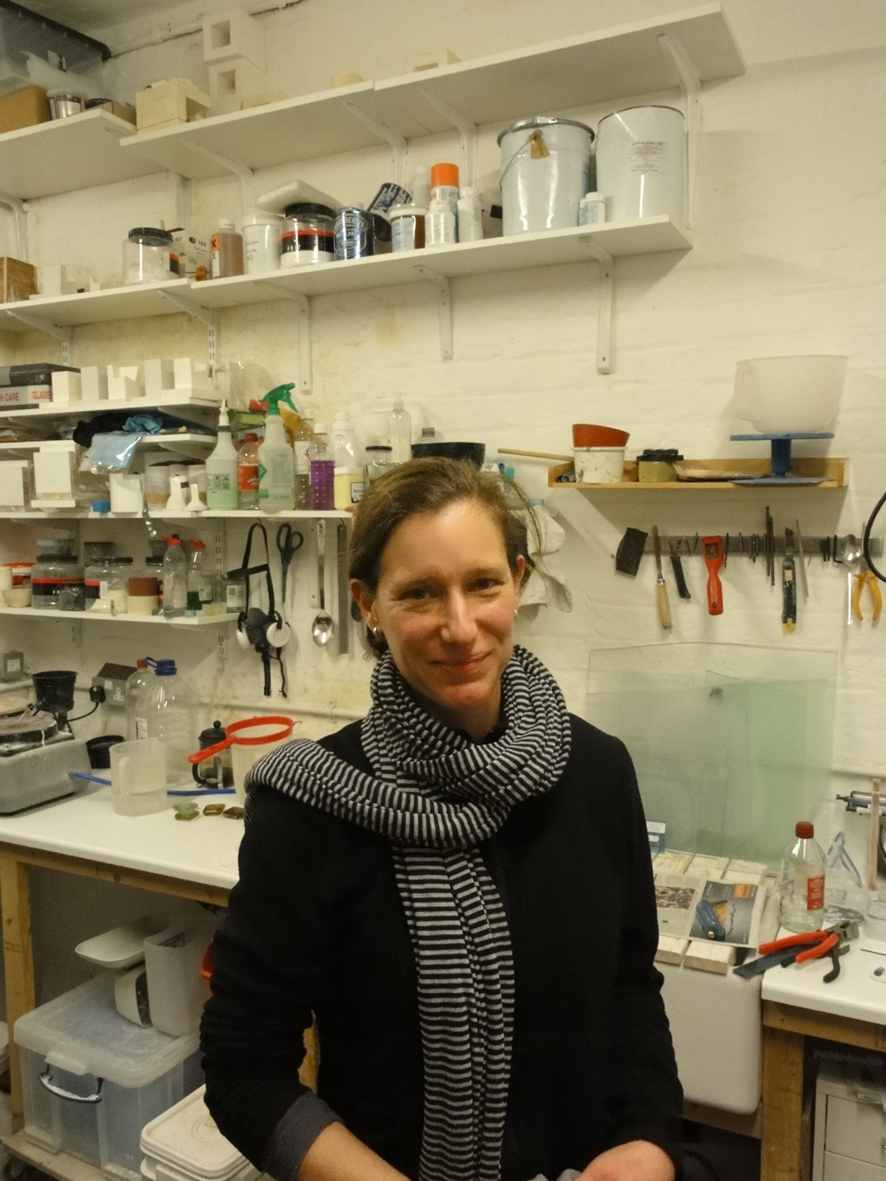 Born and raised in Munich, Germany, Heike Brachlow started working with glass in Rotorua, New Zealand, as an apprentice in a small studio. Having received her BA in 2004 from the University of Wolverhampton, her MA in 2006 and her PhD in 2012 from the Royal College of Art in London, she primarily works as a self-employed artist and educator. Heike's often precariously balanced sculptures aim to physically engage: the viewer becomes toucher – invited by words or form, boldly or guiltily. Colour is an important part of her work: the exploration of the interaction of colour, form and light in solid transparent glass during her PhD research has led her to producing her own glass colours, adding metal oxides to the glass batch during the melting process. This enables her to create a personal palette, which consists mostly of subtle tones and colours that change in different types of light. Her work reflects her attraction to movement and transformation, both in colour and form.
ARTIST BACKGROUND
Born Munich, Germany
Currently Essex, UK
Education/Training
2012 Ph.D. "Color for Solid Glass Sculpture," Royal College of Art, London
2006 M.A. Ceramics and Glass, Royal College of Art, London
2004 B.A. (Honors) Glass (1st class), University of Wolverhampton, UK
Professional Experience
Lecturer, Westminster Adult Education Services (2013 – present)
2014 Instructor, Pilchuck Glass School, WA, USA
2014 Instructor, Penland School of Crafts, NC, USA
2014 Speaker, Breathing through Transparency Symposium, Hangzhou, China
2013 Research Associate, National Glass Centre, University of Sunderland
2011 – 2013 Lecturer, Art and Design (Glass), Havering College, UK
2013 Instructor, the Studio of the Corning Museum of Glass, New York, USA (2011, 2012, 2013)
2010 Speaker, Creativity and Innovation in Glass, Symposium at the School of Art & Design, University of Wolverhampton, UK
2009 Speaker, BECon 2009, Portland, Oregon
2009 Inspire and Inform, Bullseye UK Lecture Tour (traveling)
2007 Residency, Studio of the Corning Museum of Glass, New York
2005 Residency, Ceramics Department, Kyoto City University of Arts, Japan
Selected Exhibitions
2014 Coburg Glass Prize ehibition, Coburg, Germany
2014 International Contemporary Glass Art Exhibition, Hangzhou, China
2013 SOFA Chicago (Bullseye Gallery, Portland, Oregon)(2008)
2013 COLLECT, Saatchi Gallery, London (2010)
2012 Solo Show Six Impossible Things, Bullseye Gallery, Portland, Oregon
2012 British Glass Biennale, Ruskin Glass Center, Stourbridge, UK (2006, 2010)
2012 Solo Show, The Gallery at Parndon Mill, Harlow, UK
2011 Jerwood Makers Open exhibition, Jerwood Space, London
2010 Art Miami (Bullseye Gallery, Portland, Oregon)
2010 Master der Moderne, Handwerksmesse, Munich
2009 SOFA Santa Fe (Bullseye Gallery, Portland, Oregon)
2009 Space – Time, National Glass Centre, Sunderland, UK
2009 Bonhams Modern And Contemporary Glass Auction, London
2008 e-merge 2008, Bullseye Resource Center Gallery, Portland, Oregon
2007 New Faces – Crafts Council Showcase, Victoria & Albert Museum, London
2005 Kyoto Art Center, Japan
Collections
2011 European Museum of Modern Glass, Art Collection of the Veste Coburg,
Rodental, Germany
2009 Dan Klein & Alan J. Poole (Private Collection) @ The National Museums Scotland, Edinburgh, UK
2009 Glasmuseum Hentrich, Düsseldorf, Germany
Awards, Honors & Grants
2013 Shortlisted for Coburg Prize for Contemporary Glass 2014, Germany
2012 Nominated for International Glass Prize, Lommel, Belgium
2011 Jerwood Makers Open Award, London
Publications
2013 Member Profile. GAS news, Summer 2013, Vol. 24 Issue 2
2011 Featured artist in Thwaites, Angela. Mouldmaking for Glass. London: A&C
Black, 2011
2011 Featured artist, New Glass Review (and 2009)
2010 Interview, Objects No. 4: The Journal of Applied Arts. Berlin, pp. 86-89
2008 Essay "on Colour, Glass and Light", and featured artist, in Craig, Blanche (ed.) Contemporary Glass. London: Black Dog Publishing, 2008.