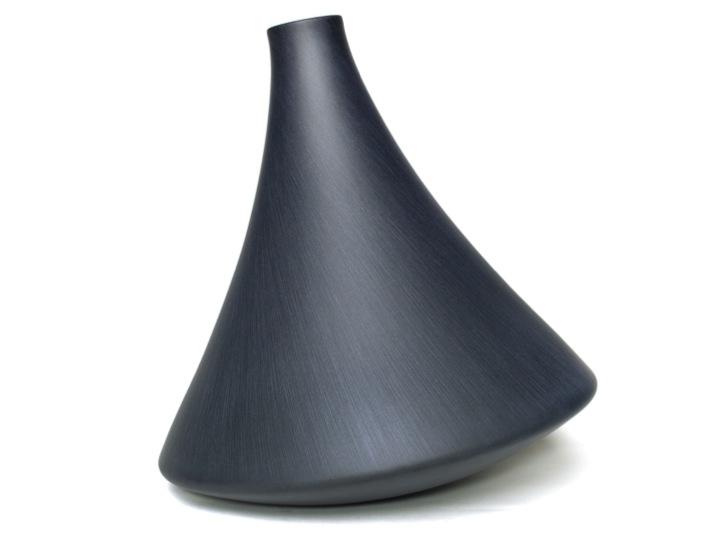 The simplicity of my work suggests stillness and silence, a meditation on the elements and concepts of light, space and time.
My work explores both two and three dimensional kiln formed and three-dimensional blown works, layered with subtle engraved surfaces.
I am interested in the space that surrounds an object, space that is able to hold and suspend. Exploring how objects balance and sit in space, holding on to that last moment of silence and stillness before they spill over. The engraved lines of light add to this tension, tilting the objects off center. This sense of anticipation generates tension between the object and the surrounding space.
Each line is a unique mark defining a physical shape; it is a contour, a stroke and an outline.
Bio Mel Douglas
Curators, contemporaries and critics consider Mel Douglas to be one of Australia's most dynamic artists working in glass. She has had continued success since graduating from the renowned Australian National University, School of Art, Glass Workshop. Douglas has exhibited consistently in many group and solo exhibitions both nationally and internationally including the United States of America, Singapore and Italy. Douglas has been featured in numerous publications and her work is held in prestigious permanent collections such as the National Gallery of Australia, Canberra, Australia and the Corning Museum of Glass, Corning New York, USA.
Her delicate, subtle work comes from the slow process of engraved mark making that is influenced by the objects physical and linear relationships. Douglas' mastery of her craft is highly regarded and has earned her many awards including the 2014 Tom Malone Prize, 2002 Ranamok Glass Prize as well as the 2007 International Young Glass Award, Ebeltolft.
CV
Education
2000 Bachelor of Arts (Visual) with first class honours, Canberra School of Art, Canberra ACT, Australia
Awards/Grants (selected)
2014 Winner Tom Malone Prize
Pilchuck Scholarship
2012 Australia Council, New work grant
Finalist International Glass Prize (Belgium)
2011 People's choice award, Ranamok Glass Prize (Canberra)
2007 Ebeltolf Young Glass Award, Lino Tagliapietra
2006 Australia Council New Work Grant
2003 Gas Emerging Artist Presenter, Seattle USA
2002 Recipient of Ranamok Glass Prize
Public Collections selected
Powerhouse Museum, Sydney NSW Australia
National Gallery of Australia, Canberra ACT, Australia
Art Gallery of South Australia, Adelaide SA, Australia
Art Gallery of Western Australia, Perth WA Australia
Corning Museum of Glass, Corning NY, USA
Canberra Museum and Gallery, Canberra ACT, Australia
Wagga Wagga Art Gallery – National Glass Collection, Wagga Wagga NSW, Australia
Parliament House Art Collection, Canberra ACT, Australia
Tutsek-Stiftung Collection, München, Germany
Glasmuseet Ebeltoft, Strandvejen, Ebeltoft
Solo Exhibitions selected
2013 point.line.plane, Sabbia Gallery, Sydney NSW Australia
2011 half-light, Beaver Galleries, Canberra ACT Australia
2010 Eventide, Bullseye Gallery, Portland USA
2008 Between the lines, Beaver Galleries, Canberra ACT Australia
2007 Linearity, Sabbia Gallery, Sydney NSW Australia
2006 Dense Light, Narek Galleries, Tanja NSW Australia
Professional Experience
2014 Mapping the surface, Pilchuck Glass School, USA
Mapping the surface, workshop with Tim Edwards, JamFactory
2013 point.line.plane, workshop at South Illinois University, USA
Teaching assistant to Richard Whiteley and Scott Chaseling, Pilchuck Glass School, WA USA
Technical assistant to Klaus Moje and Kirstie Rea, A line into the Future, Canberra Glassworks
2012 Makers Mark, Workshop at University of South Australia, Australia
2009-14 Lecturer, Glass Workshop, Canberra School of Art, Australian National University
2001-7 Project Officer, Traveling Exhibitions, National Gallery of Australia, Canberra ACT, Australia
Residencies
2014 Tacoma Museum of Glass, Tacoma Washington, USA
2010 International Artist in Residence, Northlands Creative Glass, Caithness Scotland, UK
2003 Glass Workshop, National Institute of the Arts, Australian National University, Canberra ACT, Australia
2002 Glass Workshop, National Institute of the Arts, Australian National University, Canberra ACT, Australia